– The ANC has weighed in with their view on the chaos currently gripping America
– The party called on Americans and their government to swiftly resolve the 'racial impasse'
– This comes after the death of George Floyd at the hands of police officers ignited riots across the country
The African National Congress wants 'all Americans and their government' to resolve the current 'racial impasse' gripping the country at the moment.
In addition to this, the ANC has also urged President Cyril Ramaphosa and the South African government to engage with the American government.
The party feels that the South African government should use diplomatic channels to 'diffuse racial tensions and build social cohesion among different races'.
The ruling party called for calm after George Floyd's death sparked riots across the US:
"While we note the action taken by American authorities in charging one of the officers who was caught on camera kneeling on an unarmed Floyd, it is equally concerning that incidents of police brutality against African American citizens are on the increase."
African National Congress✔@MYANC
@MyANC calls for calm in the #USA following widespread riots ignited by the death of #GeorgeFloyd & other blackAmericans in the hands of police.We also call on all Americans & their government to seek an amicable solution to the current #racial impasse #BlackLivesMatter #Covid_19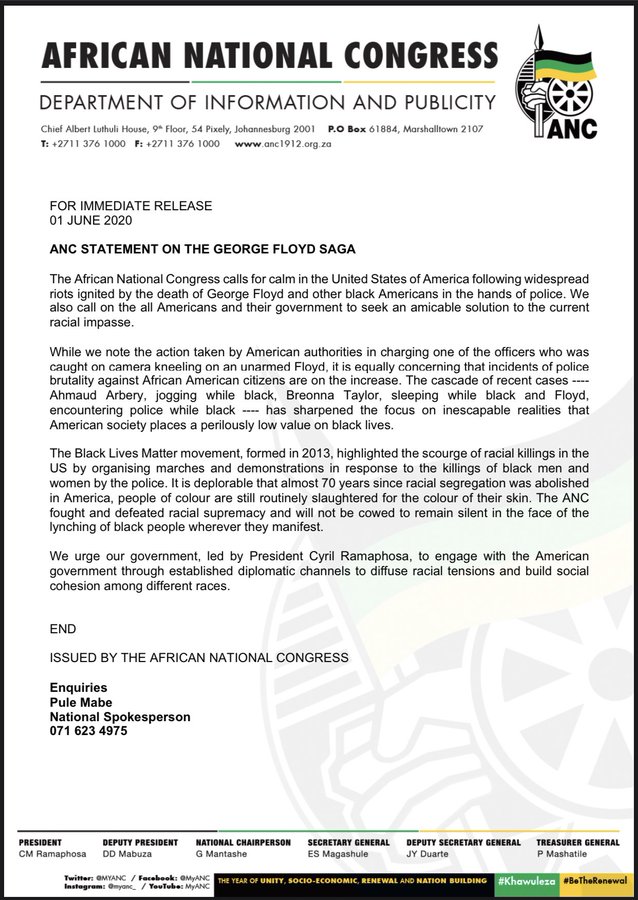 849:46 PM – Jun 1, 2020Twitter Ads info and privacy157 people are talking about this
The party acknowledged that Floyd's death was just the tip of the iceberg and that the incident was not the sole contributor to the unrest:
"The cascade of recent cases — Ahmaud Arbery, jogging while black, Breonna Taylor, sleeping while black, and Floyd, encountering police while black — has sharpened the focus on inescapable realities that American society places a perilously low value on black lives."
With 70 years having passed since the US abolished racial segregation, the ANC slammed it as deplorable that citizens of colour are still routinely slaughtered over the colour of their skin:
"The ANC fought and defeated racial supremacy and will not be cowed to remain silent in the face of the lynching of black people wherever they manifest."
Briefly.co.za reported that President Donald Trump has deployed the military in a bid to calm the violent unrest that has taken hold.
Source: Briefly.co.za