– Floyd Mayweather has shown his solidarity with the family of George Floyd
– The legendary boxer has donated huge sums of money to support the family
– Mayweather has also promised to finance the funeral of George
The retired American boxer Floyd Mayweather has reportedly donated the sum of $88,500 to the family of George Floyd who died in police custody in the US.
Close representatives of the legend disclosed that the former heavyweight champion has promised to finance George Floyd's funeral in four different locations including Houston, Minnesota, Charlotte and one further city.
According to TMZ, Mayweather told close associates that he was just doing what he feels is right in his heart.
READ ALSO: Trump deploys military as George Floyd aftermath prompts riots
Mirror Fighting✔@MirrorFighting
Mayweather sends $88,500 cheque after offering to pay for funeral of George Floydhttps://www.mirror.co.uk/sport/boxing/floyd-mayweather-sends-88500-cheque-22124006 …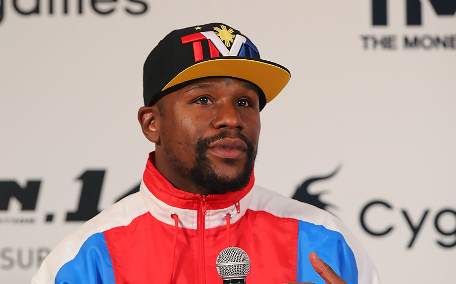 729:53 AM – Jun 2, 2020Twitter Ads info and privacy28 people are talking about this
It was gathered that George Floyd's family has accepted the offer and then a picture of a cheque sent from Mayweather to Robert Swearington Fort Bend Memorial funeral home for $88,500, to cover the costs was posted by TMZ.
Floyd died just over a week ago in controversial circumstances after being arrested by police officer Derek Chauvin, who has since been charged with third-degree murder.
The 46-year-old died in police custody in Minneapolis after his arrest for allegedly attempting to use a counterfeit $20 note.
A video emerged online of Chauvin kneeling on Floyd's neck for more than eight minutes during the arrest.
Meanwhile, Briefly.co.za earlier reported that boxing legend Floyd Mayweather has offered to pay for funeral expenses of the late George Floyd.
Floyd Mayweather's company confirmed this on social media and the family of the deceased accepted the gesture from the retired boxer who made so much money in boxing.
The 43-year-old Mayweather is said to have been so frustrated with the way George Floyd lost his life in the hands of the police, who refused to allow him to stand.
Americans and many parts of the world are currently angry and sad about how police suffocated George Floyd until he died.
In the video, which has been circulating online, it can been seen that a policeman kneeled on George Floyd's neck while he was shouting for help.
The police were nonchalant about George Floyd's pleas that he was unable to breathe and he later died.
Protesters have been demonstrating in America, demanding justice, wanting the policeman who kneeled on George's neck to be fired and arrested.