– Micheal Jordan has expressed his disgust regarding the death of George Floyd
– The Chicago Bulls legend also urged all African-Americans to air their voices to the government
– Serena Williams, Marcus Rashford, Jadon Sancho and the likes have also reacted to Floyd's death
Michael Jordan has joined a number of sports stars who frowned at the death of African-American George Floyd.
The Chicago Bulls legend says he is "deeply saddened, truly pained and plain angry" after the recent death of Floyd in police custody in Minneapolis.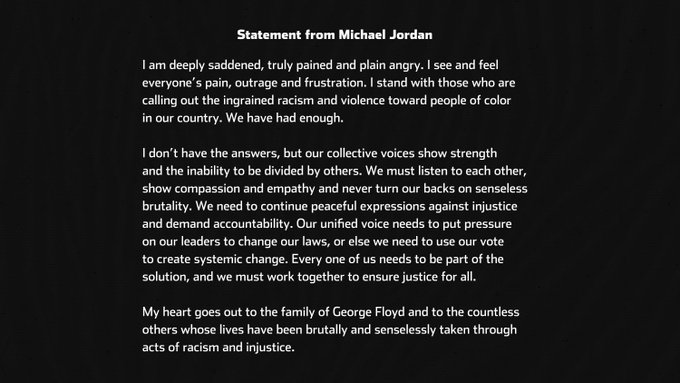 2,84510:45 PM – May 31, 2020Twitter Ads info and privacy1,009 people are talking about this
"I see and feel everyone's pain, outrage and frustration. I stand with those calling out the ingrained racism and violence toward people of colour in our country.
"We have had enough. I don't have the answers but our collective voices show strength and the inability to be divided by others. We must listen to each other, show compassion and empathy, never turn our backs on senseless brutality.
"My heart goes out to the family of George Floyd and to the countless others who have been brutally and senselessly take through the acts of racism and injustice."
There has been several protests across the streets of Minneapolis after officer Derek Chauvin who knelt down on Floyd's neck for nine minutes.
Chauvin has been since sacked by the police and charged with murder as several sports stars have reacted to the harsh treatment of black citizens in the United States.
Tennis stars Serena Williams, Coco Gauff and Naomi Osaka also spoke out about Floyd's death.
Man United striker Marcus Rashford said he had been "trying to process what is going on in the world".
He added: "At a time I've been asking people to come together, work together and be united, we appear to be more divided than ever.
"People are hurting and people need answers. Black lives matter. Black culture matters. Black communities matter. We matter."
Jadon Sancho unveiled a "Justice for George Floyd" under his shirt after scoring for Dortmund against Paderborn.