Rescue teams have been sent to an area near the airport where the Boeing 737 belonging to Ukraine International Airlines crashed, Reza Jafarzadeh, a spokesman for Iran's Civil Aviation Organization, told state television. Ukraine passenger plane crashes in Iran, all 180 onboard dead
"The plane is on fire but we have sent crews … and we may be able to save some passengers." Pirhossein Koulivand, head of Iran's emergency services, told the television.
He later said: "The fire is so heavy that we cannot (do) any rescue… we have 22 ambulances, four bus ambulances and a helicopter at the site."
Jafarzadeh put the number of passengers on board the flight at 170.
According to air tracking service FlightRadar24, the plane that crashed was on Flight PS 752.
IRNA said according to preliminary information "the plane was bound for Kiev … and had 180 passengers and crew."
Boeing said the company was aware of media reports of a plane crash in Iran and was gathering more information.
Iran's Red Crescent has said there was no chance of finding survivors, and Pir Hossein Kulivand, an Iranian emergency official, later told state TV all those on board were killed in the crash.
Ukraine's foreign ministry confirmed that assessment, citing information from the airline, and said more than 160 people had been aboard. Local reports said the number could be as high as 180.
"The plane crashed five minutes after taking off," said civil aviation spokesman Reza Jafarzadeh. "The pilot had no contact with the tower and didn't announce an emergency situation before the crash."
Kulivand told state TV on Wednesday morning that 179 people had been killed in crash, all but 32 of them Iranian citizens.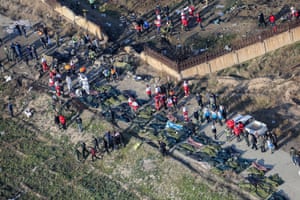 The Boeing 737-800 operated by Ukrainian International Airlines took off from Imam Khomeini international airport at 6.12am Tehran time on Wednesday and went down about 10 minutes later, according to flight tracking websites.
There were no early indications the crash was linked to Wednesday morning's missile strikes on bases in Iraq hosting US and coalition troops.
Boeing released a brief statement saying it was aware of the media reports about the disaster and was gathering more information.
A video purportedly of the crash circulated by the ISNA news agency showed the aircraft burning as it fell from the sky.
The 737-800 belongs to the same family as, but is different to, the 737 Max 8 aircraft, which has been grounded since two fatal crashes occurred within six months in Indonesia and Ethiopia. The 737-800 operates with a different software system to the one implicated in the Max 8 crashes.
The Ukraine International Airlines jet was less than four years old.
An investigation team was now at the site of the crash on the south-western outskirts of Tehran, civil aviation spokesman Reza Jafarzadeh said. "After taking off from Imam Khomeini international airport, it crashed between Parand and Shahriar," Jafarzadeh said.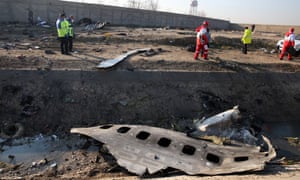 A photo later published by Iran's state-run IRNA news agency showed rescue officials in a farm field, with what appeared to be pieces of the aircraft lying nearby.
Boeing, like other airline manufacturers, typically assists in crash investigations. However, that effort in this case could be affected by the US sanctions campaign in place since President Donald Trump unilaterally withdrew from Tehran's nuclear deal with world powers in May 2018.
The US's largest manufacturing exporter has struggled to regain public trust after its 737 Max plane was involved in the two crashes that killed 346 people.
The company has faced intense scrutiny, including allegations that it was aware of problems with a new automatic flight control feature on the planes, which investigators believe is likely to have been the cause of the crashes.
Last month, the company fired its chief executive, Dennis Muilenburg, who had been widely criticised by families and regulators for his handling of the crisis. Muilenburg was accused of a lack of sensitivity and respect towards bereaved families, as well appearing to mislead the aviation regulator.
Several 737-800 aircraft have been involved in deadly accidents. In March 2016, a FlyDubai 737-800 from Dubai crashed while trying to land at Rostov-on-Don airport in Russia, killing 62 onboard. Another 737-800 flight from Dubai, operated by Air India Express, crashed in May 2010 while trying to land in Mangalore, India, killing more than 150 onboard.
Under decades of international sanctions, Iran's commercial passenger aircraft fleet has aged, with air accidents occurring regularly for domestic carriers in recent years, resulting in hundreds of casualties.
Some people are already suspecting the crash to be a terror attack by the Iranian, but the Ukraine embassy in Tehran has deny any such acusations.
sharing is caring…